Commercial hoods used in restaurants need regular preventative care to keep them operating safely. A big part of preventative care is having your hoods cleaned professionally.
How often do restaurant hoods need to be cleaned? An average restaurant needs to have the hoods cleaned once every 1 to 6 months. The type of equipment the hood covers determines where you fall within that range. Hoods over non-grease appliances like dishwashers and steam kettles only need yearly cleaning.
To figure out where you fall in that range you need to factor in the type of equipment you use as well as your menu and volume. Hood cleaning is not cheap so it is smart to have a basic daily cleaning routine to keep the professional cleanings spaced out as far apart as possible while still meeting your legal responsibilities & requirements.
Hood Cleaning Timeline
The hoods will need to be cleaned every 30 days if you have any solid fuel equipment such as wood-burning or charcoal-burning ovens. You would also fall into the 30-day range if your menu contains primarily greasy fried foods or if you are open 24 hours a day.
In my experience, the 30-day cleaning cycle is more often recommended rather than required. A good daily hood cleaning routine can extend you closer to the 90-day interval and save you major money on hood cleaning!
The 90-day cleaning cycle is where most restaurants typically fall. This is for the average restaurant, hotel or cafeteria kitchen. If your volume is low enough, you might be able to get away with pushing your cleanings every 6 months.
Hoods that are over ovens, such as standard convection or pizza ovens, generally only need cleaning once every 6 months.
Commercial hood cleaning is a big business and sadly there are a lot of unknowledgeable and unscrupulous startup pressure washing companies out there. Many restaurant owners think they are safe because their cleaner attaches a cleaning certificate stating the last cleaning date.
Unfortunately, this certificate alone does not qualify that they performed an appropriate cleaning of the exhaust hood. An appropriate cleaning includes the hoods, fans, filters, & all ductwork. To get a general overview of the National Fire Protection Association, see NFPA 96.
The best way to ensure you find a good hood cleaner is to learn the code yourself and ask for recommendations from other local restaurant owners. A reputable cleaner will walk you through the details of their service during the initial consultation and be self-insured. Lastly, always ask them for before and after pictures!
Typically, a municipality will use the standard written by the National Fire Protection Association as their own. That said, cleaning requirements vary from county to county so be sure to consult your fire inspector. Since the fire inspector will be the person inspecting and enforcing the codes they are truly the best person to answer any questions about your particular situation
Restaurant managers need to be mindful that the system is working properly. Some signs of a system not working correctly include slamming doors (from an air imbalance), a hotter than normal restaurant, smoke not being pulled from equipment, and a general haziness in the kitchen. If any of these symptoms are occurring, you are probably either overdue for a cleaning or need to consult an expert on air balancing.
You should also check with your insurance provider before setting up a regular hood cleaning service. Grease build-up from lack of cleaning is a major fire hazard so it is in your insurance companies' best interest that you are taking care of your hoods. For that reason, many insurance companies offer discounts for having a regularly scheduled cleaning program.
Do not make the mistake of thinking that professional hood cleaning is something you can "DIY". I have talked to owners in the past who do this "in house" and they are making a huge mistake.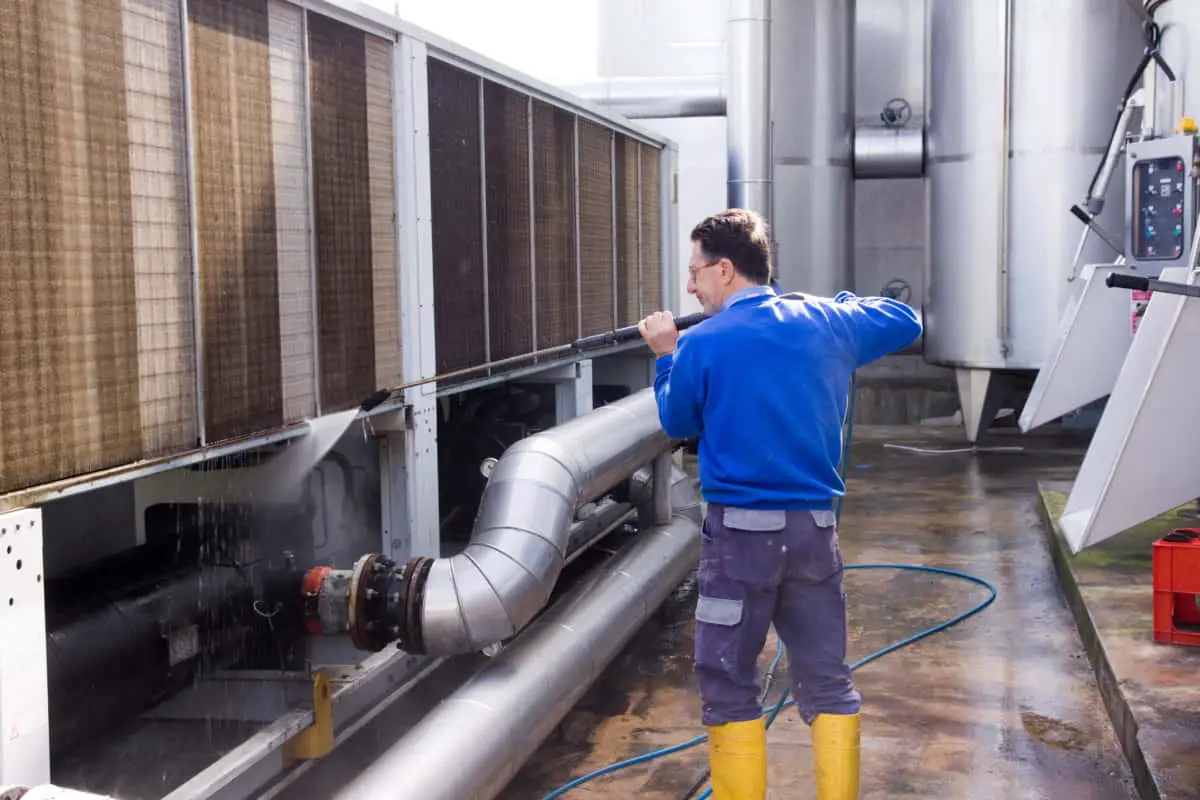 The cleaning described in NFPA 96 should only be carried out by professionals properly trained and certified in cleaning kitchen exhaust. Failure to comply with NFPA 96 can result in grease fires, large fines, and even mandatory closure. It's not worth the risk, hire this job out!
With that being said, having your team properly clean your exhaust hood daily can really make an impact on how often you need to have the pros come out. While it sounds like a lot of work to do the daily cleaning I wrote a breakdown. Once, you get the routine down it takes less than 15 minutes daily.

Daily Hood Cleaning
How do you clean your hoods daily? It is a six-step process that gets quicker with practice.
1. Remove & Soak the Grease Trap(s)
The grease traps are found on the sides of the hood. Carefully remove them and empty them into your grease receptacle. Soak the empty traps in a hot water/degreaser mixture for at least 10 minutes. Move onto the next step as they soak.
2. Remove & Soak the Filters
Setup a sink of hot water and degreaser. Remove the filters from the hood. The easiest way to get the filters down is with a broom handle. Once removed, soak them for at least 10 minutes while moving onto the next step. I like to soak them overnight once a week (or whenever the grease is especially caked onto them).
3. Clean the Exhaust Hood Exterior
With the filters and trap soaking, its time to clean the hood itself. Start with the exterior using a degreaser or stainless steel cleaner with a soft cloth. Generally, this part is pretty easy if maintained daily.
4. Clean the Exhaust Hood Interior
Now move to the inside of the hood. This is the most time-consuming part. Believe it or not, you will save time by cleaning it daily since the grease will not have time to accumulate and cake together. Use degreaser and a soft towel and nonabrasive scrubber. At the very least, do this weekly. The fan blades should get clean once a week as well. Finish this step by removing the soapy residue with a fresh towel and warm water.
5. Finish Cleaning the Filters
Drain the sink that has the filters. Scrub any stubborn grease spots that did not come out from soaking using a nonabrasive scrubber. Rinse the filters and run them through the dish machine. Give them about 15 minutes to air dry. Be sure to change the water in the dish machine after running the filters.
Replace the filters & Traps
Replace the grease filter and trap(s) back into position. And you're finished!
Cost to Clean
How much does it cost to have a restaurant hood system cleaned by a certified professional? The cost of hood cleaning varies and depends on many factors, including location, hood type, hood size, number of fans, and travel distance. On average, the minimum cost to clean a standard hood is between $400 and $500.
Let's dig into the factors that can cause the price to rise a bit more.

Distance: Most vendors will charge you the time it takes them to travel from their office to your restaurant. Mediate this cost by hiring locally
Current Condition: If this is a first cleaning or a health department mandated cleaning that requires scraping your price is going to increase drastically.
Ductwork Height: Ductwork that zigs and zags to the outside or is multiple stories high is going to cost more.
Local Cost: The cost of all services vary from location to location and are usually higher in large cities.
Hood Size & Elements: The more hood there is, the longer it takes to clean! This includes the number of fans, filters, and access panels.
Water: If you decide you do not want them using your water supply, they will need to bring a water supply truck. This gets pricey so just stick to using your own water!
Part Replacement: If the company is trained and equipped to do so, it makes sense to have them fix any broken fan belts or blades. This will add to the cost.
Contracts: If you set up a yearly contract you will likely see a price break. If you set up a contract across multiple locations, you will definitely see a price break.
Get multiple quotes. If a company does not offer a free estimate, take that as a red flag. If someone comes in with a bid far below the others, treat it with skepticism. Remember, you get what you pay for and they are most likely cutting corners somewhere in order to offer you that low price. That does not mean that you have to go with the highest price company either. My advice is to go with a company that is recommended highly from a peer, rated highly online and has a price that is roughly on par with the competition.
Whoever you choose to clean your hoods, ensure that they leave you with a detailed report after each visit that includes the before and after pictures discussed earlier. These should be timestamped so you have them to show an inspector. When getting your initial estimate and setting up services, refer to the information provided in addition to their recommendations to decide how often your system should be cleaned. Remember, a clean hood is a safe hood!
If you are in the early planning stages of your restaurant, be sure to find out if your concept even needs a hood.