Most restaurants have a commercial hood over their cooking equipment.  Lately, I have been in a lot of concepts that operate without a hood. This can make figuring out the requirements confusing for people in the design (or redesign) phase of opening a restaurant.  
The hood system is one of the most expensive items you will purchase when opening a restaurant. It goes without saying then that understanding the requirements and seeing if you can possibly forgo the hood system altogether are both incredibly important!
Does my restaurant need a hood system?  Restaurant kitchens with gas-powered commercial cooking equipment are almost always required to have a hood system in order to operate.  Depending on your local fire and health codes, you might not need a hood for some electric equipment.   
These are general guidelines and vary greatly from one jurisdiction to the next.  To understand more details about hood system requirements, it helps to understand the basic operations along with the costs associated with it.
There are other options to traditional hood systems for locations that it would normally not be possible to add a hood thanks to advancements in technology. If seeing the crazy costs scare you and your budget, understand that you can tailor the menu in a way that allows you to not need equipment that requires hoods.
Hood System Basics
Hood systems are installed over equipment to provide ventilation for the smoke that is created in the cooking process.  They work by using a system of filters, fans and ductwork to extract the heat, smoke, and grease. 
Most hood systems have an integrated fire suppression system that works to put out grease fire quickly without using water, instead of using chemicals to suffocate the fire.  One of the most well-known types of these fire suppression systems in the Ansul System, which you can read more about below.
Gas-powered commercial restaurant equipment almost always requires a hood.  In fact, I have never been in a kitchen with gas equipment that did NOT have a hood.  Electric equipment is tricky and varies from county to county.  The type of electric equipment you are using also factors into whether or not a hood is required. An electric fryer, for example, will always need a hood because of the smoke produced when cooking with grease.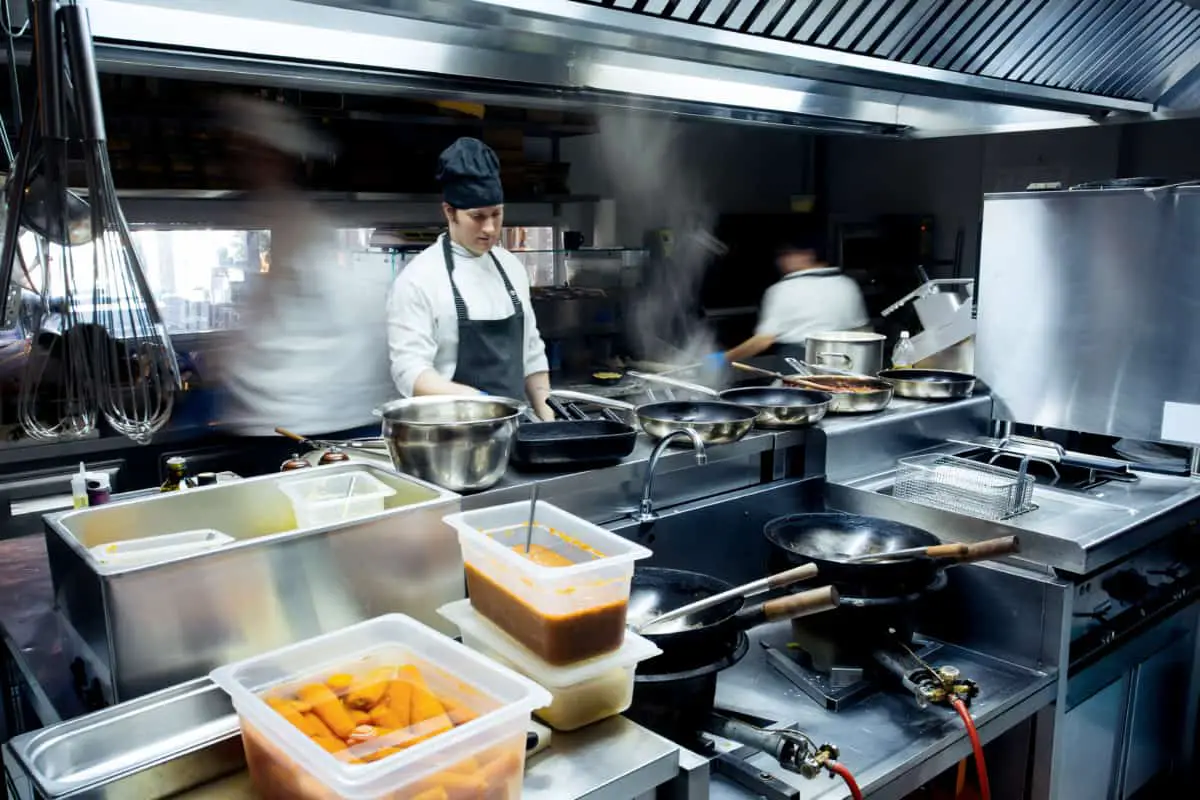 Some of the more strict jurisdictions require a hood included for equipment that does not usually necessitate one, such as steam tables, dishwashers, and panini presses. This equipment having a required hood is becoming more and more common as environmental regulations tighten. 
 There are two different types of the hood.  The Type 2 hood is a non-grease hood.  This is only for restaurants that are venting water vapor that is produced when cooking or washing dishes.  The more commonly used Type 1 hood is a grease hood that would be used for all other types of restaurants.  Type 1 hoods need to be cleaned regularly by a specialized hood cleaning company.  
I have heard of a few rare instances where a gas pizza oven is given the exemption of needing a hood.  The argument here is that cooking a pizza does not produce grease vapors which therefore would allow you to omit the hood in jurisdictions where gas equipment doesn't automatically mandate having it. 
I personally think that the meat toppings produce enough grease to warrant the need for a hood, but I have read of fire inspectors who think differently.  That said, don't take this to mean that gas pizza ovens do not need a hood!  This is a rare exception to the rule that may or may not (probably not) be allowed in your jurisdiction.  
The best thing to do in order to find out your requirements is to check local code. Click here to see the code for your area.
Cost of Hood Systems
The overall cost of a hood system relies on many factors making it difficult to get a true quote without having someone come out and see the area. In some locations, installation could cause the below estimates to TRIPLE if there is not a direct path to the outside above or beside where the hoods will go properly vent the system.
With the disclaimer that these numbers are going to vary based on the factors above, here is a very rough estimate that compares costs for each option:
Hood System with Fire Suppression: $900 – $1,400
Ventless Hood System with Fire Suppression: $2,900 – $3,500
Countertop Hood (WITHOUT Fire Suppression): $2,000 – $2,200 per linear foot.
The above estimates include both parts and labor. There are ongoing costs associated with a hood system as well, including cleaning & repairs.
Alternatives to a Hood System
Electric Equipment:  Electric equipment is the easiest solution if your jurisdiction allows for it and it fits into what you are planning with your menu.  Check your local code to see if this is an option for you.
Countertop Hoods: I have never actually seen these in use, but I have been fascinated with them since I saw them in a supply catalog last year. These hoods are made to sit on a counter with the equipment directly underneath it.  Equipex sells a model.  This is not a cheap way option.
Ventless Equipment:  Buying electric equipment that is designed specifically to not need a vent (regardless of local code) is another option.  Your options will be limited though to equipment that makes foods that don't generally produce a ton of smoke like ovens and sandwich toasters.   
Ventless Hoods:  Another option would be to go with a ventless hood system.  The ventless hoods are a newer technology using an air filtration system that is completely self-contained.  These units do not require any ductwork to be installed and can be moved if you ever change locations.  The drawback is that these units are very expensive.  
Precooked Ingredients:   If all else fails, talk to your food supplier and ask for samples. There are many manufacturers that produce ready to eat foods that are of high quality. They will cost you more in terms of food cost but would offset the initial costs of a hood system.
Restaurant Menu without a Hood System
Creating a menu of items that can be made with equipment not requiring a hood will require some creativity. It's like they say in the Godfather:  "Difficult, not impossible".  With a clear idea of what equipment you will be able to run you can sit down and come up with some ideas for any part of the day.
Breakfast is easy.  You will not be able to serve eggs or pancakes, but you can certainly make some creative dishes using your convection oven.  Baked egg soufflés and grilled egg sandwiches (using seared eggs) will more than cover you for hot food.  If an oven is not an option, then consider partnering with a local bakery to be your vendor and sell their muffins, pastries, and bagels along with cream cheese.  If you go this route, make sure you pick a great coffee and keep it fresh!  This formula works out well for Starbucks so the proof is in the pudding (or in this case, the proof is in the coffee?!).
Lunch is probably the easiest meal of the day to plan a menu without a hood.  You can serve a variety of salads and sandwiches, including hot sandwiches made with a toaster oven. You can get really creative with artesian sandwiches and flatbreads.  Pre-made soups and cold pasta salads are a great option for sides.  It might be the diner kid in me, but I am a sucker for a great salad bar.  
Dinner is where you need to get creative.  Some of the best ideas I have seen include prime rib (cooked in an alto sham), chicken thighs, pulled pork, lasagna, brisket, and flatbread pizzas.  
As mentioned earlier, I recommend meeting with the sales representatives from potential local food vendors early in the planning process to see what kind of pre-cooked ingredients you can incorporate into your menu.  Be sure to ask them to try samples!  You will be shocked at the quality of some of the foods steam-vented bags can produce in the microwave.  
Ansul Fire Suppression Systems 101
The Ansul system is a type of fire suppression system used in commercial kitchens.  There are other brands and types of fire suppression systems for use in restaurant kitchens but Ansul is the literal only hood integrated system I have ever encountered.  Ansul is a dry, foam chemical compound of Anhydrous Sulfur dioxide that is effective against electric and grease fires making it a perfect match for restaurant kitchens.  
The system's goal is twofold; first, eliminate the fire's fuel source and second prevent the fire from spreading.  The name Ansul is taken from the first few letters of the compound (ANhydrousSULfur).
Ansul is one of the premier brands offered within its parent company Tyco Fire Care Protection product line.  They offer a full lineup of fire protection products for commercial, and industrial use.  
The price of adding a fire suppression system varies based on your location, the size of the hood, the type of appliances that will be covered and whether or not you are adding it to a preexisting hood or if you are purchasing it as part of a new hood.  The size of your kitchen also comes into play as it will determine the number of nozzles and mounting brackets as well as the size of your suppression tank.  
Given all the factors that go into it, it is REALLY hard to estimate the cost of a system with any amount of precision, but I can give a rough range of about $340 to $360 per linear food.  The best way is to buy a system with the Ansul system together which will save you money in the long run. Keep in mind these prices do NOT include installation
One word of caution since we are talking fire safety: ALWAYS have a backup fire extinguisher with a Class J rating near your kitchen.  Also, be sure to train your staff on how to actually use the fire extinguisher!
Hopefully, you have a better understanding now of how hood and fire suppression systems work and whether or not the restaurant you are planning will need a hood. You should also have a solid basis of ideas to create a menu for a restaurant without hoods!