If you're trying to increase the check averages at your restaurant, it's necessary to educate your staff about new techniques that will persuade customers to spend more and happily return for subsequent visits.
Eight Ways to Improve Check Averages
Mention popular dishes
Offer specials from the kitchen and bar
Update your menu design
Be subtle when upselling items
Refrain from questioning or interrupting customers too much
Offer dessert options before bringing appetizers or main courses
Hold special events and fundraisers
Make sure they return

Before implementing new training or techniques, make sure you cover the basics first. The first step to ensuring a steady flow of customers is to monitor and maintain the cleanliness of your employees and restaurant.
Using upselling or add-on items may be useful in increasing check averages. Still, sales tips will not persuade a new customer to sit in a dirty restaurant and order from a disheveled server to spend more money or return for another visit.
Food quality, sanitation guidelines, and a pleasant atmosphere are more relevant to customers than anything else. After you're finished refining the basics, it's time to train your employees and increase your revenue.
Mention Popular Dishes
When new guests, who know little about your restaurant, look at your menu, they may need guidance when deciding. Mentioning your most popular meals will help them understand what makes your place unique and worth visiting.
Your popular items should have high-profit margins, and If you're losing money or not making enough on a dish, you would typically remove it from the menu. Your most requested and loved offerings should have high visibility on your menu to entice new guests.
Offer Specials From the Kitchen and Bar
Your unique offerings should have the highest profit margins of your menu and should be announced to all your guests. Although specials from the bar and kitchen require additional training for your staff and are more labor-intensive than other items, they generate higher check averages.
When you offer something unique when compared to the rest of your menu, most customers won't mind paying more to try it. A grilled swordfish special may be more expensive than anything else you offer, but guests won't feel like you're pushing costly items on them when you offer it as a special and describe the dish in detail.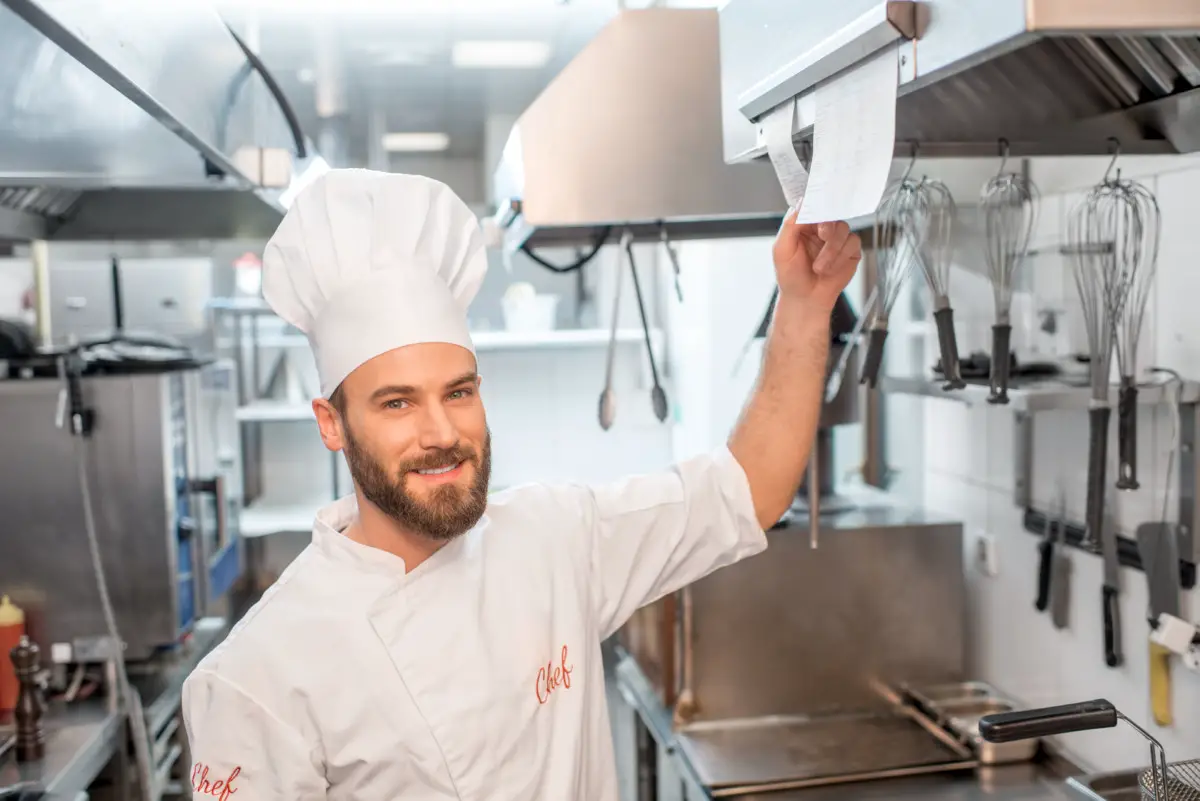 Update Your Menu Design
A useful technique that doesn't require you to retrain your staff is a menu update. A properly designed menu can help increase your check averages and should appear simple and inviting.
Appearing simple and inviting means it should not include too many graphics or pictures that may draw a customer's attention away from your meal descriptions.
Some larger restaurants, with numerous menu items, make the mistake of cramming pictures, graphics, and descriptions into several columns on each page. When a barrage of images overstimulates a patron, they take longer to order and become frustrated with your poor design.
Most experts agree that people typically look at the center of the menu first, then the upper right corner and the top left corner last. These three areas should include your meals with the highest profit margin.
You can place your highest-priced item in the center, and place mid-range items with high margins in the upper right and upper left corners. Here is an example:
High Margin Item Placement
| | | |
| --- | --- | --- |
| Blackened Grouper….27.95 |   | Rainbow Trout….29.95 |
|   |        Surf and Turf….35.95   |   |
By drawing attention to your high margin offerings on your menu, you're guiding the customer towards profitable options. When guests frequently order more valuable items, your check averages increase.
If you add new menu items often, it's wise to keep the same basic design. Your regulars are accustomed to seeing the categories and descriptions structured in a certain way. If you change the format too much when you add new meals, you risk alienating or confusing loyal customers.
For more detailed information about menu design, checkout this DIY Menu Design article in addition to this post that discusses picture usage and other menu creation frequently asked questions.
Offer Dessert Options Before Bringing Appetizers or Main Courses
One smart way for your servers to increase their check size is to describe the dessert options after taking the guests' initial orders. When you mention dessert at the end of the meal, when everyone is full of appetizers and main courses, guests often can't fathom eating anything else.
You can train servers to say something like, "If you're interested in dessert after your meal, we have an incredible Crème Brule and a homemade butter pecan cheesecake." Suggesting dessert at the beginning of the meal may persuade your guests to refrain from overeating and, in turn, order dessert.
Be Subtle When Upselling Items
Your staff can upsell menu items without appearing pushy or greedy. When a customer orders a cocktail, your server can mention your bar's house liquor and how much the drink would cost with high-end liquor. Your staff should avoid telling customers they should "upgrade" or "upsize" their order.
Customers like knowing the various ways they can customize their meals, but they don't respond well to aggressive tactics. Being subtle and polite when upselling helps build trust with guests and will pay off in bigger checks and more substantial tips.
When someone orders an entrée, the server should ask if they'd like to add anything to the order. If the guest says no, the server should not try to entice them with add-on items like sautéed vegetables.
Offering wine or beer flights is a subtle way to entice your guests with a sampling of pricey wines or craft beer. You can use mid-range flights like this one, or a more straightforward, inexpensive model like this one.
Refrain From Questioning or Interrupting Customers Too Much
Communicating with your guests is extremely important, but frequently disrupting their meal or repeatedly questioning them can alienate them. Managers and servers who take turns asking guests "is everything ok" irritate the patrons and discourage them from becoming loyal customers.
Servers should ask individual guests if they want refills rather than shouting, "Anyone need more iced tea?" while guests are engaged in a conversation. If you annoy your guests, you're unlikely to convince them to spend more money or visit you again.
Hold Special Events and Fundraisers
A fantastic way to attract new customers and impress loyal regulars is to hold fundraisers and special events. Schedule a beer or wine garden event if you have outdoor dining or hold a fundraiser for a charity group or local school.
Notify your guests by email of upcoming events and offer prizes or discounts if they attend. Convince customers that they're part of your family, and they'll tell their friends about your place.
Staying involved with and contributing to your community is the right thing to do, and it will contribute to your continued success. Guests will be willing to spend more when they think of your restaurant as an exciting place to enjoy themselves rather than merely a business with decent food.
Make Sure They Return
Return business is essential for every successful restaurant. If a customer has an incredible experience, they're likely to spend more on their next visit. Until they are familiar with your menu, some people hesitate to spend a lot.
Use your website and social media platforms to connect with your patrons. Your online presence should draw in new customers and reward loyal ones. Answer customer comments or complaints promptly and avoid negative or offensive responses at all costs.
Being honest and polite, both online and offline will go a long way in increasing revenue. Customers love when they receive online coupons or alerts to special events. Stay connected with your clientele, and the benefits will follow.
Bottom Line
Increasing your average check amount involves effective communication with your employees and customers. Pushy sales techniques and aggressive badgering may work with a small percentage of your guests, but more will be driven away.
When you're honest with your patrons and make them feel like they're part of your restaurant, your check averages will increase, and your business will prosper.